EXTRAORDINARY PLANETARY ALIGNMENTS TO HIT IN 2ND QUARTER OF 2012 – CONT.

EXTRAORDINARY PLANETARY ALIGNMENTS TO HIT IN 2ND QUARTER OF 2012 - PART II
August 30, 2012
The last couple of months have been a difficult period for me and that is why I have not released any free newsletter. Difficult is a relative word, as I have made two very important discoveries during that time. In this newsletter I will reveal these discoveries and I will continue where I left off in the last newsletter of March 2012 tilted "EXTRAORDINARY PLANETARY ALIGNMENTS TO HIT IN 2ND QUARTER OF 2012".
In the last Rosecast Newsletter from March 2012 I wrote among others:
QUICK GUIDE TO 2012 ANNUAL FORECAST BOOK: "BUY THE LOWS, SELL THE HIGHS"
In the 2012 Annual Forecast each forecasted High is accompanied by a forecasted Low. A forecasted HIGH is indicating a Sell-signal - a forecasted LOW is indicting a Buy-signal. Since Buy- and Sell-signals are alternating....there is never a question left as to what exact position the 2012 Forecast Book is suggesting you to favor on any given day....either the suggestion will be a BUY or a SELL.
EXTRAORDINARY PLANETARY ALIGNMENTS TO HIT IN 2ND QUARTER OF 2012
During the 2nd quarter of 2012 we will for the first time since more than 77 years witness an exact square aspect between the planets Uranus and Pluto. The exact place in the Zodiac of this square aspect will be 8.4 degrees of Cardinal Signs. If you are knowledgeable in numerology you will have heard about the special relation between the numbers 8 and 4 that already the famous numerologist CHEIRO has used for his legendary predictions. The worldwide ramifications of this square aspect are largely speculated about within the astrological community.In the 2012 forecast book I go one step further and explain that it is not only the traditional planets that determine the results of said square aspect on the financial markets, but more so those dwarf planets that have only been recently discovered by modern astronomy. The hidden knowledge of how to integrate these dwarfs planets within the framework of traditional astrology is an integral part of the 2012 Annual Forecast. So after taking all crucial planetary bodies into account, I come to the conclusion that the 2nd quarter of 2012 is vastly unique in the history of financial astrology... and seeing these unique alignments and knowing that other financial astrologers might simply ignore them...at their own peril...was for me the main impetus to write the 2012 Forecast Book.
So now let's take a look and see what has happenend during the second quarter of 2012.
I will start with the 2012 Annual Forecast Book.
Below I insert a table of the first 10 forecasted Lows and Highs of the 2012 Annual Forecast Book and the gain that would have resulted from the strategy "Buy the Lows, Sell the Highs".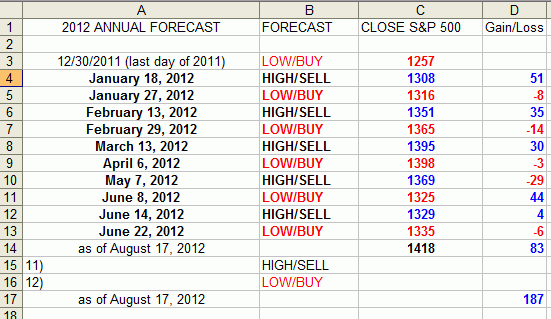 As of August 17, 2012 when the S&P 500 has closed at 1418, the gain of this strategy that was proposed in the February 2012 and March 2012 free newsletters was 187 SPX points. NOT BAD! On April 5, 2012 I wrote an update to the 2012 forecasted book in which I
1) replaced April 6 with April 19 as a forecasted low
2) replaced May 7 with May 11 as a forecasted high
3) dropped both June 8 and 14 ..and replaced June 22, 2012 with June 25, 2012.
I was sure that June 25 would become a declining day for the S&P 500 and so it happened!
This revised strategy of April 5, 2012 would have even resulted in an overall S&P 500 gain of over 232 SPX points. AGAIN - NOT BAD!
Notice that there is one forecasted High (11) and one forecasted Low (12) that is still to come.....and if you have purchased the 2012 Forecast Book, let me tell you that I expect the gain of 187 points to increase FURTHER during the month of September 2012, if you follow the above strategy for the 2012 Annual Forecast. I will update about this "forecast" in a newsletter that will be released during October of 2012.
The most important FORECASTED low of the 2012 Annual Forecast Book was June 22, 2012/June 25, 2012 (see page 32 of 2012 Annual Forecast Book)
That is why I wrote the March 2012 free newsletter tilted "EXTRAORDINARY PLANETARY ALIGNMENTS TO HIT IN 2ND QUARTER OF 2012".
When June 25, 2012 has arrived I was a bit disappointed. Given the Greek elections, my negative projections for the Euro (which came to be true) and the extraordinary alignments I have written about, I thought that more negative things were to be expected.
But the fact is that when studying history - major negative alignments often do not come out as the very lows of the year, but as starting points of a huge rally. An example of this is the "CARDINAL CLIMAX" of the summer of 2010....that many financial astrologers foremost Raymond Merriman have written about extensively. The "CARDINAL CLIMAX" resulted in a huge rally after the summer of 2010 that took the S&P 500 from a low on August 31, 2012 of 1049 (closing price) to a high of 1363 (April 29, 2011) - or an unprecedented gain of 314 SPX points within only 8 months.
THE DISCOVERY OF THE RULING PLANETS
So I was very disappointed, but during late August I have made a very important discovery. I have discovered the prove of the ruling planets.
I believe that the discovery of the RULING PLANETS is my most important discovery ever made. I have heard first about the ruling planets in the forum WHITS in the year 2007 when Lorin Baker made a comment that each commoditiy was ruled by a quick and a slow-moving planet. Unfortunately at that time I did not have the astrological know-how and software to prove the existance of the ruling planets and therefore I thought this was maybe just another story...
But after I have made an important discovery in May of 2012 related to the speed at which a planet is moving (which has resulted in a free forecast for the month of June 2012), I was quickly able to prove the existance of the ruling planets in late August of 2012.
And so I have actually found out that the theory behind the 2012 is only partly accurate....if the theory was completely wrong - a gain of 187 points for the 2012 Forecast Book (see above) would not have been achieved. Also notice that the 2011 Forecast Book has achieved a gain of 98 points (following the same strategey of buying all forecasted lows and selling all forecasted highs) compared to a flat SPX for the year 2011.
So here is again the inaccurate theroy of the 2012 and 2011 Forecast Books:
"If the major transiting planets make squares and oppositions to each other, the S&P 500 and other globally important stock indices will tend to make a low, while if the transiting planets make trines and conjunctions to each other, the S&P 500 will make a high."
The theory of benign and stressful planetary aspects is routed in musical harmony and has been and important rudiment of astrology for over more than 5000 years.
SHOCKING DISCOVERY OF AUGUST 2012 "THE PHILOSOPHY BEHIND THE 2012 FORECAST BOOK IS NOT ACCURATE!"
WHY ? Because the squares and oppositions of ALL major transiting planets can only affect the S&P 500 negatively, if they touch the Ruling Planets of the S&P 500. Thus NOT ALL squares and oppositions can affect the S&P 500 negatively - only those that form a major-geometry with the Ruling Planets.
If you are an experienced observer of the financial markets you you will have noticed that on most days in 2012 when the S&P 500 has closed up strongly, the T-Bonds have closed down strongly and vice versa. This inverse relationship between bond and stock prices I could never explain astrologically until my discovery of the ruling planets. The inverse relationship of the recent years is a consequence of the fact that the Bonds are ruled by different planets than Stocks.
Before my most important discovery I always believed that ALL transiting planets control the S&P 500 and other stock indices, while ALL other commodities are primarily controlled by their respective horoscopes. I.e. the Euro was born on January 1, 1999 in Brussels, T-Bonds were born on August 22, 1977 in Chicago.....
After my discovery I now now understand that all commodities of global importance like Gold, Silver, Copper, Oil, Corn, Soybeans and even the Euro have their own ruling planets and are controlled by them.
At this moment I know that I have identified the correct ruling planets for T-Bonds and Stocks....and therefore the accuracy of my ability to forecast these markets must increase. I am not certain that I know the correct ruling planets for all the other financial commodities, but one thing is for sure:
NEW DISCOVERY ABOUT 2012 FORECAST BOOK:
IF ALL TRANSITING PLANETS FORM A MAJOR NEGATIVE GEOMETRY AS FORECASTED FOR JUNE 22, 2012 IN THE 2012 ANNUAL ROSECAST WINTER FORECAST BOOK, AND SINCE ALL FINANCIAL MARKETS AND COMMODITIES HAVE ONE OR MORE RULING PLANETS (MY LATEST DISCOVERY), THEN ALL FINANCIAL MARKETS MUST MAKE A LOW ON JUNE 22, 2012 (AND NOT ONLY THE S&P500 - INACCURATE THEORY WHEN THE 2012 FORECAST BOOK WAS WRITTEN).
And this is precisely what has happened. On the pages that follow I have displayed the charts of 17 major commodities and the interesting fact is that all commodities made important lows around the key forecasted date of June 22, 2012 even those commodities that usually demonstrate an inverse relationship - like bonds and stocks.
Therefore the 2012 Annual Forecast Book is an important prove that the planets do control the financial markets...and not the other way round....And the prove was delivered BEFORE the FACT (in December of 2011 when the Book was released) and not after the FACT.
ON THESE PAGES YOU WILL FIND THE PROVE click link on left side
The only important financial market that has NOT made an important low on June 22/25 2012 is the EUR/USD exchange rate which has made a low on July 24, 2012 - one month later.

Summary: The Extraordinary Planetary Alignments of the 2nd quarter of 2012 there were forecasted to hit on June 22/25 in the 2012 Annual Forecast Book resulted in a precise low at that time for almost all financial markets and commodities (with the exception of the EUR/USD exchange rate).
Most notably the Grain (Corn) and Energy markets (Oil) made EXTRAORDINARY lows on June 22/25 and therefore the strategy of SELLING the forecasted highs and BUYING the forecasted lows would have resulted in even greater profits for these markets than those that were so far achieved in the S&P 500.
The 2012 Annual Forecast Book has proven that the planetary alignments in the transiting skies affect all financial markets and commodities....and it has proven that these crucial and extraordinary alignments can well be forecasted in advance.
1) The knowledge of planetary geometry as explained in the 2012 Forecast Book is key to forecasting crucial planetary alignments that will affect all major financial markets and commodities
2) The knowledge of the Ruling Planets is key to forecasting particular financial markets with a high level of accuracy.
This knowledge was not reveiled in the 2012 Forecast Book because it is a new discovery of August 2012.
3) Natal horoscopes have certainly an influence on particular stocks and some currency pairs, but can be disregarded when forecasting the major stock, bonds, metals, energy and other commoditiy markets.
Sincerely,
Markus Rose
Editor of Rosecast Market Timing
https://www.rosecast.com
Ranked #1 Stock Market Timer
10/10/2007 to 10/10/2008 by Timer Digest
Ranked #1 Gold Timer of 2008 by Timer Digest

You are receiving this Rosecast Free Newsletter on Financial Astrology because you have signed up on www.rosecast.com
To unsubscribe from this free newsletter, please send email to m@rosecast.com with REMOVE in subject line of E-mail.
Mailing Address:
Markus Rose
Rosecast Astro Services
704 N. King Street Suite 500
Wilmington, DE 19801
USA
Customer Service (phone): +1 302 319 2006