The Battle for the Worldwide Acceptance of Financial Astrology

ROSECAST.COM RANKED #1 AGAIN – BY TIMER DIGEST

Rosecast's performance of S&P 500 Investor Signals has been ranked #1 by TIMER DIGEST over the last three recent months (Jan 18 to April 18, 2008) outperforming the 2nd place holder by more than 8% and the third place holder by more than 16%.  With worldwide over 150 newsletter editors tracked, this result can be regarded as a victory of financial astrology over other methods of market analysis.
Moreover as a financial astrologer I am able to tell my clients what will happen in the future as supposed to changing long/short signals because of a technical factor – like a "volume reversal" or breakout day".
I use the word "again", because Rosecast.com has already been ranked #1 - for the yearly period between March 2004 and March 2005. This fact has prompted Fortune Magazine to mention the Rosecast market timing service in an article on stock market timing.
Over the most recent six months Rosecast.com has been ranked #3 timer stock market timer. Over the most recent yearly period (April 18, 2007 to April 18, 2008), Rosecast.com has been ranked #6 stock market timer.
Additionally Rosecast has been ranked #4 Gold market timer for the same period (April 18, 2007 to April 18, 2008).
These ratings confirm the excellent performance of the Rosecast.com forecasting service in a very difficult market environment.
Since being tracked as of August 2003, Markus Rose has achieved more top positions (also #2 in 2004 Stock Market /#2 in 2007 Gold) with Timer Digest, than any other financial astrologer in the world. Before that time Arch Crawford of Crawford's Perspectives has achieved to be the highest ranked financial astrologer with Timer Digest over a period of several years.
I want to use this opportunity to thank Timer Digest for the excellent service they provide. Financial astrology is still met with a lot of skepticism among ordinary people. Timer Digest – through its unbiased tracking of newsletter editors - gives credibility to those financial astrologers who deserve it.
A SHORT MESSAGE TO SKEPTICS

And to those astrologers/financial astrologers that are criticizing the financial astrology methods introduced in the Rosecast free newsletters I have only one message: If my methods do not work, while your methods do work, why are you not rated # 1, or # 2 or number # 3? Where are you at all? Instead of criticizing me, I have one suggestion to you: "Do it better!"
I am up for the challenge.
THE BRADLEY SIDEROGRAPH
I believe that one reason why financial astrology is met with skepticism is because (financial) astrology software programs are very difficult to understand and very difficult to use.  I speak from experience. For this reason financial astrology is very difficult to learn. But instead of complaining about that and criticizing other astrologers or companies, I have set myself a simple goal: "Do it better!"
This Monday the first copies of the Rosecast Bradley software have been shipped. In the beginning, customers had experienced "a bug", but this bug has quickly been fixed and the program runs now smoothly on any Windows PC. The only technical issue that has to be addressed is that for non- English versions of MS Windows, like German, French or Dutch versions, the regional settings have to be set to English. English for US, the UK and Australia will work fine. Otherwise the program will not run, because the dates cannot be changed. I am working on a solution for European customers, who do not want to / cannot change their windows regional settings to English.
Here are some unsolicited opinions on Rosecast Bradley software of the first users:

"Thanks for building this and the Rosecast Trader Enhanced, these are really great tools."
"Thanks for the software.  It looks like it will do what I hoped it would do and is very simple to use."
Screenshot of Bradley Siderograph software by Rosecast.com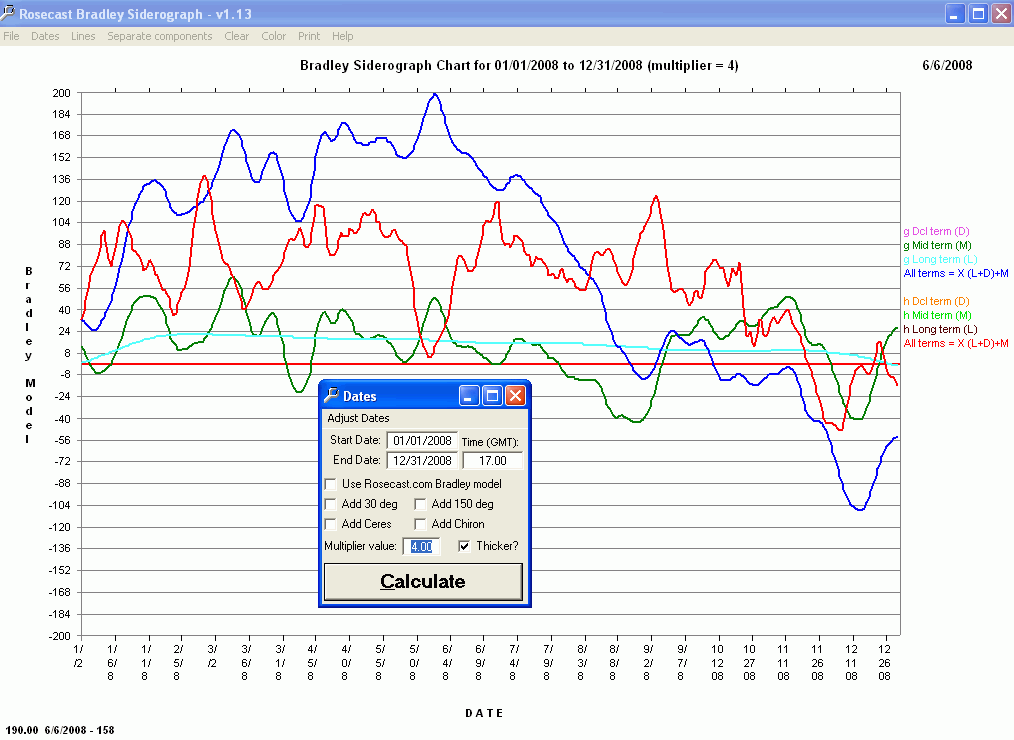 You can still order the Bradley software now at the very low introductory price. In the next newsletter I will write more about the Bradley Siderograph, also called Bradley Barometer. I will also demonstrate through examples, why this 100% "made in astrology-land" indicator together with the Rosecast Bradley software is destined to achieve a worldwide acceptance of financial astrology. Until the battle continues…
Best regards,
Markus Rose
https://www.rosecast.com
Ranked #1 Stock Market Timer in USA
01/18/08 to 04/18/2008 by Timer Digest