HOW TO BECOME THE NUMBER 1 MARKET TIMER IN THE WORLD? (2ND PART)
The #1 Story Continues...
In the last free Rosecast newsletter I have explained how Timer Digest measures the performance of newsletter writers by tracking LONG, SHORT and NEUTRAL signals for the S&P 500. At the time of the last free newsletter - July 9 - 2008 Timer Digest has featured Markus Rose of Rosecast.com as the #1 market timer in the 3 months category for the 4th time in a row and as #3 market timer in the 6 months category and as #3 market timer in the yearly category.
Since this time more than 14 days have passed and the markets have been quite "wild". So how did Rosecast.com do during that important time and more importantly than to learn this from me, what are Timer Digest's new rankings on Rosecast.com AFTER this critical time period?  
Well I am pleased to annouce that as of July 19, 2008 Rosecast.com has really achieved a a positive sensation in Timer Digest terms. Because as of July 19 Rosecast.com is the #1 stock market timer in all three Timer Digest categories:
1) the three months: Rosecast.com #1 for the 5th time in a row - as of April 20, 2008.
2) the six months: Rosecast.com new #1 as of July 14, 2008.
3) the yearly: Rosecast.com new #1 as of July 19, 2008.
Thus Rosecast.com has moved from 3d place to first place in both the six months and the yearly category and Rosecast.com has also managed to defend its # 1 position in the three-months-ranking for the 5th time in a row.
Thus Rosecast.com is now the clear leader in all Timer Digest stock market rankings. It is very hard for any market timer to achieve such a result. More over I am positive that I am the first financial astrologer who has ever achieved this.
So how did Rosecast do it in particular? Well after being short since late May, Rosecast.com has changed the Timer Digest signal to Long on the close of July 15. At that time a good friend who has got my LONG notification email on the close of July 15, 2008 immediately replied "Are you crazy? (to go LONG now), do you NOT read any newspapers ?, the banks and the ecomomy are dead!"
Of course my answer to this and similar remarks is always: "It is undoubtedly more valuable to read tomorrow's newspaper than yesterday's and this is just what my method is all about." My longer term subscribers of course know this and I have received many congratulations emails on this call and my prior work.
Still the crisis is not over yet, there will soon come another time to profit from falling prices again. Timing is the key and I invite you to join me so that Rosecast.com can alert you to potential profit opportunities still ahead of us this year. Correct timing is invaluable during a time "when the well-being of the whole financial system is at stake" - as expressed by a financial trader recently.

FOR A MORE POWERFUL FINANCIAL ASTROLOGY, MORE POWERFUL SOFTWARE IS NEEDED
If the future is in the stars, then why is Rosecast ranked on top of all other market timers and also on top of other financial astrologers ?
There is a simple reason for this. If you use different tools, then you will get different results. Take for example the Rosecast Bradley software. The Bradley Siderograph is used by many financial astrologers and can also be found as an add on to some Financial Astrology Programs that draw price lines on charts. However none of these programs/astrologers/software have featured July 15, 2008 as any turn. However the Rosecast.com Bradley software has. This software can still be purchased from us at a very low price. See a screenshot of this innovative software below.
You can move the vertical-line cursor with your computer-mouse and the date in the upper right hand corner will change along with the cursor. All it takes is to change the ORIGINAL Bradely formula by checking 4 checkboxes (add 30, add 150, add Ceres, use Rosecast.com Bradley). Upon checking each checkbox the graph immediately adjusts. Really anybody can do this ! The picture below proves that July 15 was one of the three biggest turns in the 3-months period of June 1, 2008 - August 31, 2008, only of course when using the Rosecast.com adjustements of the Original Bradley formula.  Below the screenshot I have allowed myself to insert an unsolicited testimonial from one of the first clients and users of this innovative and unique piece of Rosecast.com software.
As I am now the number 1 stock market timer of Timer Digest in all three time frames (and of my biggest performance goals has thus been reached) I want to grasp this moment in time to thank all subcribers and fans of Rosecast.com who have crossed my path during the last six years for their continuous support, believe and feedback. Following a policy of improvement through continuous innovation, we are  working hard to not disappoint your very high expectations in Rosecast.com for the future.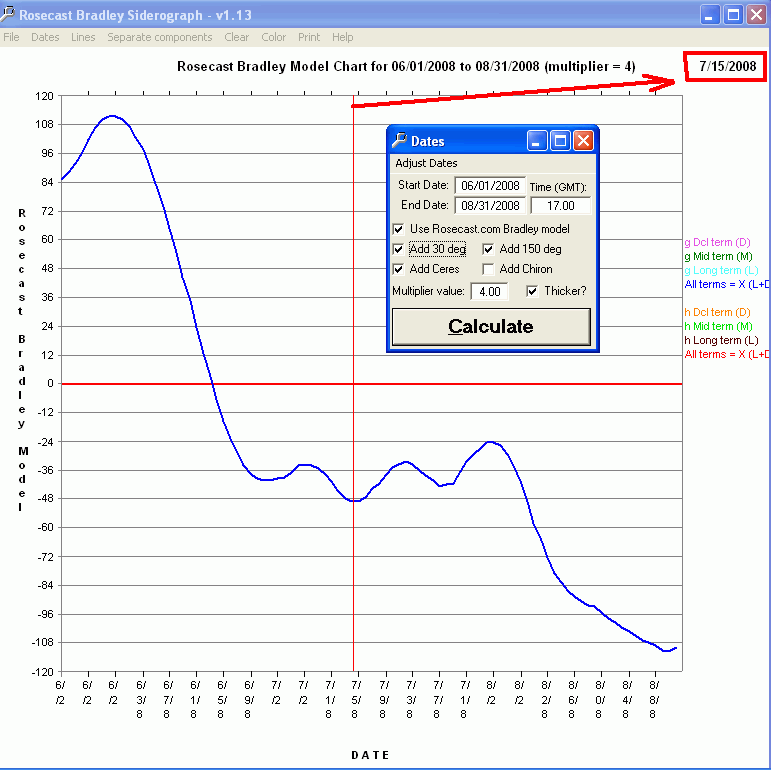 "I had to write you again about the new Bradley
software.
I believe you have really accomplished a milestone,
the accuracy in the program is showing you have
uncovered the mystery.
I am sure you have sacrificed much in your life to
arrive here and if you are like the others who have
accomplished a great deal you are given little credit.
The resistance from the old crowd as you are trying to
pickup and improve where others have left off is a
burden in itself, but you have beared the pressure and
arrived at a higher place...I am cheering for your sucess. Thanks again."
Best regards,
Markus Rose

https://www.rosecast.com
Ranked #1 Stock Market Timer in the USA by Timer Digest
July 23, 2007 - July 23, 2008
Jan 23, 2008 - July 23, 2008
Apr 23, 2008 - July 23, 2008
and for many other time periods which have been omitted here in order to save space.
Date of First Website Publication: July 23, 2008
Date of Revised Newsletter Publication: July 30, 2008
(C) 2008 Rosecast Astro Services, www.rosecast.com